| | | |
| --- | --- | --- |
| | Product Detail: | |
Paralled surface grinding machine
| | | |
| --- | --- | --- |
| | Product Detail: | |
DX-SW900 CNC horizontal dual-surface grinding machine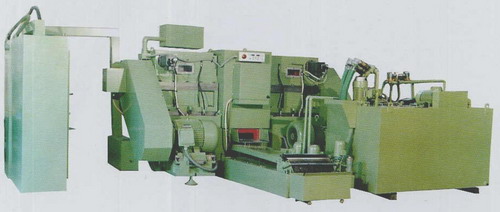 DX-SW900 CNC horizontal dual-surface grinding machine
Technical parameters:
DX-SW900 horizontal dual-surface grinding machine is suitable for grinding parallel ends of workpieces with 80-300mm diameter and 8-100 mm width. With different workpieces feeding method, it can grind double ends of brake disk of automobile, ring of bearing, connecting rod of motor, tappet of stigma, large ring of gear, etc.
The machine is equipped with SIEMENS 805 CNC for high reliability, stability, convenience and flexibility.

Technical features:
| | |
| --- | --- |
| Diameter of Workpiece | 80-300mm |
| Width of Workpiece | 8-100mm |
| Diameter of Grinding Wheel | 900 mm |
| Linear Velocity of Grinding Wheel | 35m/s |
| Travel of Wheelhead Sleeve | 130mm |
| Rotation Speed of Wheelhead Spindle | 16-160 rpm (stepless) |
| Feed Rate of Wheelhead | 0.01mm |
| Motor of Wheelhead (x2) | 37Kw 1500r/min |
| Spindle Motor | 34Kw 1500r/min |
| Outline (LxWxH) | 3660x2870x1700 mm |
| Weight | 14 Ton |
| Roughness | Ra=0.8m |
| Jitter of End | 0.03mm |
| Parallelism | 0.02mm |