| | | |
| --- | --- | --- |
| | Product Detail: | |
magnetic field presses machine
| | | |
| --- | --- | --- |
| | Product Detail: | |
Magnetic field pressure machine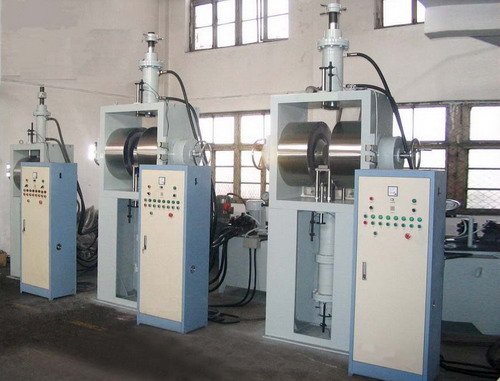 Magnetic field pressure machine
Highlights:
Two-way mechanical limit magnetic field pressure machine
function characteristics:
(1)The patent for utility model products.
(2) The synchronization of pressure molding, molding size by the mechanical limit precision guarantee.
(3) The protection of demoulding technology, improve the yield of molding products.
(4)The host side is equipped with infrared protector.
(5) Is equipped with tooling platform.
(6) To suppress or suppress process before enough magnetic field will stop.
(7) Movements are controlled by PLC, the option is excellent, reliable operation.
Performance parameters:
Model

The pressure
(t)

column
Diameter

head
Diameter

magnetic field GS


power
(kW)

The beat
(s)

Two-way type mechanical limit

DXP15-200

15

Φ200

Φ150

>17000

18

15-18

DXP15-250

15

Φ250

Φ150

>20000

22

18-20

DXP25-300

25

Φ300

Φ200

>21000

26

20-30

DXP40-350

40

Φ350

Φ250

>21000

29

30-40

One-way side Cylinder type

DXP15-200

15

Φ200

Φ150

>17000

18

7-9

DXP15-250

15

Φ250

Φ150

>20000

22

8-10

DXP25-300

25

Φ300

Φ200

>21000

26

10-12

DXP40-350

40

Φ350

Φ250

>21000

29

15-20

Two-way type

DXP15-200

15

Φ200

Φ150

>17000

18

15-18

DXP15-250

15

Φ250

Φ150

>20000

22

18-20

DXP25-300

25

Φ300

Φ200

>21000

26

20-30

Parallel to pressure type

DXP40-250

40

Φ250

Φ150

>20000

22

15-25

DXP60-300

60

Φ300

Φ200

>20000

26

20-30

DXP100-350

100

Φ350

Φ250

>21000

29

25-35

DXP100-400

100

Φ400

Φ300

>21000

32

30-40

Radiant

DXP15-100

15

Φ100

-

>13000

20

10-20

DXP25-200

25

Φ200

-

>15000

26

15-25