| | | |
| --- | --- | --- |
| | Product Detail: | |
Automatic Refrigerator Door Gasket Cutting Machine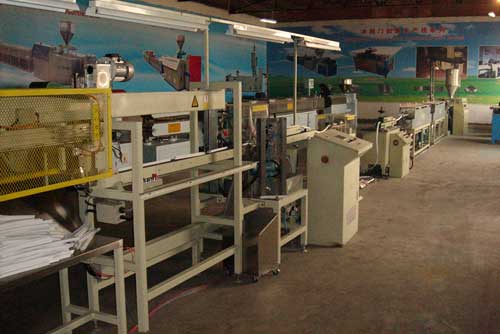 Main Components of Automatic Refrigerator Door Gasket Cutting Machine:
| | | |
| --- | --- | --- |
| No. | Item | Memo |
| 1 | Reduction Box | NEUGART |
| 2 | Pneumatic Parts | AIRTAC |
| 3 | Blades | IMPORTED MATERIAL |
| 4 | Servo System | OMRON |
| 5 | Electronic Control Case | Touching Screen Mode |
| 6 | Cut Mold | 2Cr13 |
Descriptions of automatic pickup, drilling, cutting
It is the main working unit for pvc door gasket, controlled by screen touching mode, and the parameters could be freely setup, which make the operation easily, the door gasket draught by traction engine are draught and drilling mold, and draught onto the accessorial engine of cutting machine, at this moment, please control the inserting speed by manual switch of "manual/auto" on electronic control case, after having inserted the gasket into cut mold exactly, please switchover to auto switch, at the same time, the touching-mode screen should switchover to "auto. Run", the cutting machine cut the two ends of gasket to 45 degree according to the set length value, the cut speed would be adjusted according to the draught speed, which is controlled by the "Frequency Change" button, and tightness of gaskets are controlled by the photoelectricity switch on the back of the drilling machine, after having been cut, the gaskets would be draught onto the manipulator by the conveyor belt, finally, the manipulator put the materials on the metal plate.
Photos of Auto. Cutting Machine System incl. 4 parts:
Pic.1: Holes Drilling Machine (Step 1: automatically drill)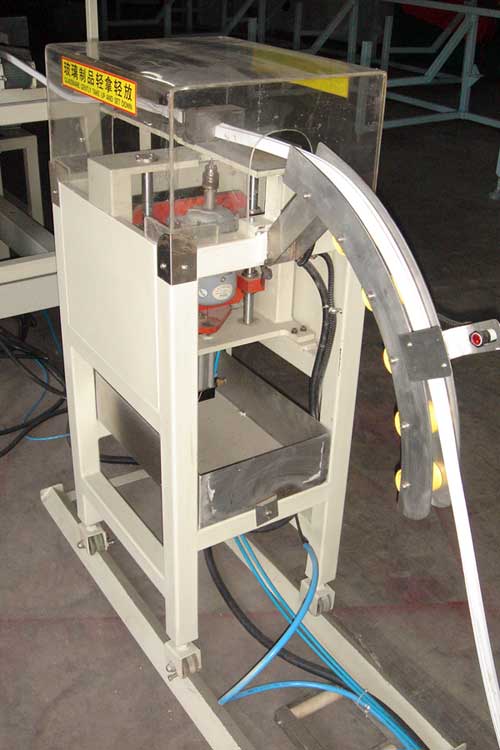 Pic 2: Electronic Control Case (to control automatically)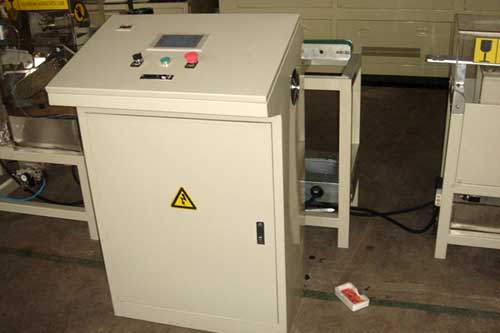 Pic3:Cutting Machine(Step2:automatically cut)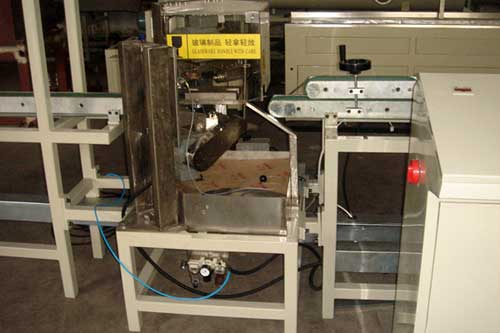 Pic4:Manipulator (Step3:automatically put down the gaskets in metal plate)