| | | |
| --- | --- | --- |
| | Product Detail: | |
Paralled surface grinding machine
| | | |
| --- | --- | --- |
| | Product Detail: | |
DX-SW750 CNC horizontal dual-surface grinding machine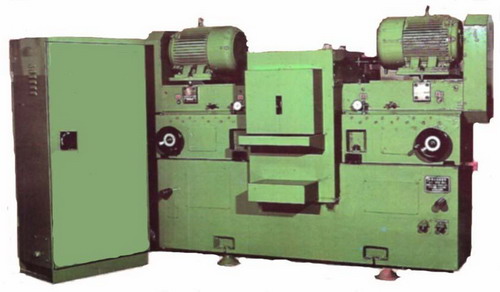 DX-SW750 CNC horizontal dual-surface grinding machine
Technical Parameters:
DX-SW750 horizontal dual-surface grinding machine is designed to grind permanent magnetic ferrite in circuit shape with high manufacture efficiency and reliable precision.
The machine has horizontal structure with left and right wheelheads fixed on the same horizontal central line. During processing, the grind wheel is still and workpieces pass through two grinding wheels by loading device. Therefore, parallel surfaces of one workpiece are ground simultaneously.
Diamond grinding wheels are used on this machine.

Technical features:
| | |
| --- | --- |
| Diameter of Workpiece | 50-180mm |
| Width of Workpiece | 6-40mm |
| Rotation Rate of Spindle of Grinding Wheel | 1070rpm |
| Motor of Grinding Wheel | 22 Kw |
| Dimension of Grinding Wheel (Diameter x thickness) | 750x25mm |
| Speed of workpiece feeding | 0.5-2rpm |
| Outline (L x W x H) | 2400x2200x1700 mm |