| | | |
| --- | --- | --- |
| | Product Detail: | |
Paralled surface grinding machine
| | | |
| --- | --- | --- |
| | Product Detail: | |
DX Series CNC Vertical Dual Surface Grinding Machine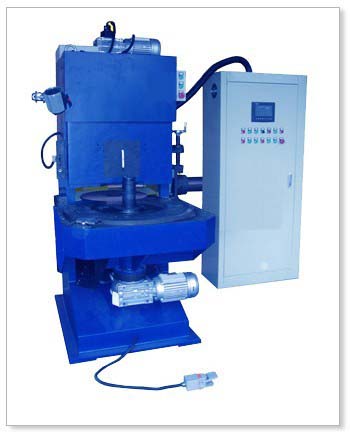 DX Series CNC Vertical Dual Surface Grinding Machine
Principles

DXMK77 Series CNC spring double disc grinding machine is suitable to carry out dry grinding. Processing of two-end surface of compressible springs. In two ways, one is gradual grinding, other one is press-in grinding. Control system use PLC and touch screen, so to operation and maintenance is very simple. System can be stored in 20 groups grinding parameters, and can work manually and automatically. In the grinding process, all states and parameters can be displayed on the screen real time and can directly modify the relevant parameters.
Two grinding wheels are installed vertically, their axial lines are in same vertical line. Grinding heads motor with integrated linear guideway structure (patent pending), directly drive grinding wheel with high rotating accuracy, upper and lower grinding heads run through the straight linear guideway, and can be drove by ballscrew, with high precision movement, less driving power and long service life. The slide plate of upper grinding wheel hoists by geared motor to achieve compensation.
Feeding plate is installed at the convertible platform, simple structure and can be suitable for different specification springs. Grinding by replacing the bushing or feeding plate.
Equipment Feature

▼The axial movement of grinding wheel linear guideway, running smooth, high precision and long life;
▼The axial driving of grinding wheels using ballscrew, high precision, long life and small drive power;
▼Grinding wheel dressing tool is drove by motor, high dressing efficiency and smoothness is much better than manual;
▼A large-size feeding plate, greatly improved spring grinding yield and increased production efficiency;
▼A aluminum geared motor, high thermal diffusivity, easy maintenance and beautiful appearance;
▼The upper grinding wheel feeding drive can use servo motor, fast feeding response and long life.

Main technical parameters:
| | | | | | |
| --- | --- | --- | --- | --- | --- |
| Model | MK7706x150 | MK7709x250 | MK7709x400 | MK7712x250 | MK7712x400 |
| External Diameter | MAX80 mm | MAX 90 mm | MAX 90 mm | MAX90 mm | MAX 90 mm |
| Spring Length | MAX 150 mm | MAX 250 mm | MAX 400 mm | MAX 250 mm | MAX 400 mm |
| Diameter of Wire | 0.5~6.0 mm | 2~9 mm | 2~9 mm | 3~12 mm | 3~12 mm |
| Diameter of Feeding Plate | 740 mm | 580 mm | 580 mm | 740 mm | 740 mm |
| Rotary Speed of Feeding Plate | 0~ 35 r/min | 0~ 35 r/min | 0~ 35 r/min | 0~ 35 r/min | 0~ 35 r/min |
| Diameter of Grinding Wheel | 450 mm | 450 mm | 450 mm | 600 mm | 600 mm |
| Thickness of Grinding Wheel | 55 mm | 55 mm | 55 mm | 100 mm | 100 mm |
| Rotary Speed of Grinding Wheel | 1450 r/min | 1450 r/min | 1450 r/min | 960 r/min | 960 r/min |
| Power | 10 kW | 16 kW | 16 kW | 25 kW | 25 kW |
| Weight | 2500 kg | 3600 kgs | 3800 kgs | 4200 kgs | 4500 kgs |