| | | |
| --- | --- | --- |
| | Product Detail: | |
Internal Circular Grinding Machine
| | | |
| --- | --- | --- |
| | Product Detail: | |
CNC internal grinder machine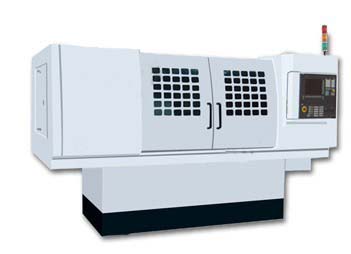 CNC internal grinder machine
Main features:

★The machine tool lathe bed adopts casting pieces, deformation small, rigid good.
★The machine parameter setting, modification using touch screen form, which can realize the man-machine dialogue.
★All moving machine tool guide rail USES the linear rolling guide rail, sliding and feed reciprocating screw adopts high accuracy ball screw.
★The machine tool feed system and reciprocating system all use Japan mitsubishi servo system two axes linkage control.
★The machine tool spindle adopts high-speed motorized spindle,and controlled by the static frequency converter, realize stepless speed regulation.
★The bedside box adopts high accuracy ball bearing, rotating speed of communication is frequent, stepless speed regulation.
★The machine can match three jaw chuck, hydraulic chuck, chuck, film pneumatic chuck clamp for user selection, etc.
★The machine adopts closed cover shell, beautiful appearance generous.

Specification parameters
Machine tool model

DXIC-2110

DXIC-2120

DXIC-215

Grinding diameter (mm)

φ6-φ100

φ30-φ200

φ5-φ50

Maximum grinding depth (mm)

120

200

80

Rotary workpiece diameter (mm)

Enclosure (mm)

φ260

φ400

φ220

Cover (mm)

φ480

φ600

φ260

Maximum turning Angle of the head of a bed (°)

20 °

20°

30°

Workpiece rotational speed (r/min)

180 - CVT

0-500 (CVT)

180-500-4 (steps)

Grinding wheel rotational speed (r/min)

10000-24000 (CVT)

0-24000 (CVT)

0-24000, 0-60000

Machine total power (kw)

13

15

8

Artifacts motor power (kw)

0.45/0.75

2.2

0.45/0.75

The grinding wheel motor power (kw)

9

9-12

2.2

Machine tool appearance size (mm)

2363 x 1260 x 1300

3100 x 2120 x 1900

1900 x 1260 x 1300

Machine weight (kg)

2500

4500

1300

Working accuracy of the

Inner hole roundness (um)

2

3

2

Bore cylindricity (um)

3

5

3

Inner hole surface roughness (um)

Ra0.4

Ra0.4

Ra0.4

Scattered size (mm)

0.012

0.015

0.015